SHORT NEWS
Researchers at the University of Zurich develop extremely agile drones
Researchers at the University of Zurich (UZH) have developed a system that enables flying robots to be very agile. A new type of camera allows autonomous drones to respond much faster than if they were controlled by a human pilot.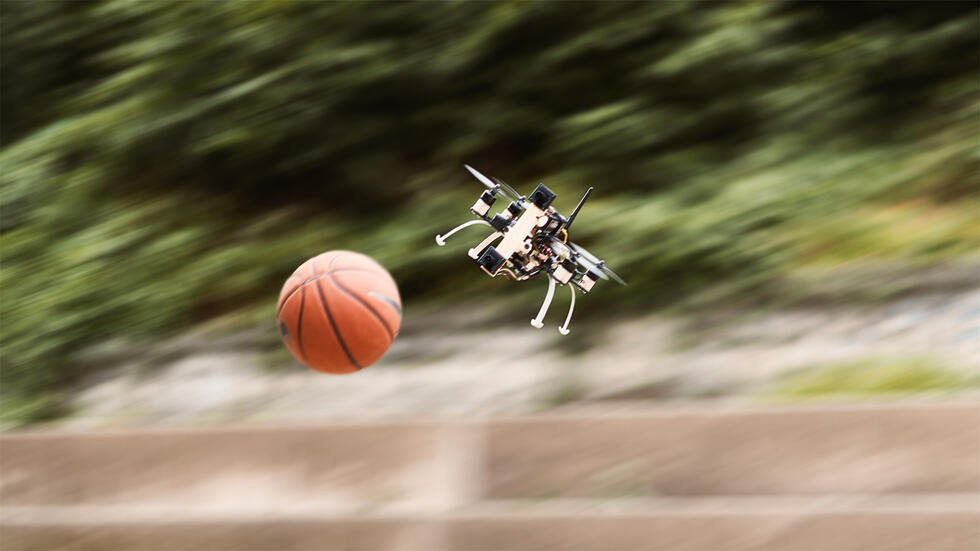 Drones equipped with the event camera that was recently developed by the "Robotics and Perception" research group can successfully dodge obstacles – even balls fired in their directions from a distance of three meters and moving at 10 meters per second. A specially developed algorithm detects obstacles – including moving objects – within 3.5 milliseconds with a success rate of over 90 percent, the researchers report.
A drone equipped with a conventional camera typically takes 20 to 40 milliseconds to react. Although this is fast, it is not always fast enough to prevent collisions with birds or other drones. When many drones are active in the same area or when flying in unpredictable environments, this comparatively long reaction time can lead to serious problems.
The new system, on the other hand, considerably expands the range of applications for drones – for example for goods deliveries, passenger transport, aerial photography, and even search and rescue missions. "But the ability of robots to reliably detect obstacles approaching them also plays a crucial role in other fields", says Davide Scaramuzza from the Robotics and Perception team, "such as the automotive industry, mining, and remote inspections using robots".
In the future, the researchers from the University of Zurich's Institute of Computer Science intend to test the system on an even more agile quadrocopter (a four-propeller drone). "Our goal is to develop an autonomous drone that navigates just as well as a human drone pilot," says Davide Falanga, PhD student and lead author of the paper. "If autonomous drones could navigate as reliably as human pilots, we could also use them for missions that are out of line of sight or out of range of the remote control."
Photos: Universität Zürich