SHORT NEWS
Artificial intelligence tries its hand as a raclette scraper
In the Swiss canton of Valais, a robot makes raclette, a melted cheese specialty. The artificial intelligence creature was presented in autumn at the "Foire du Valais" trade fair in the town of Martigny. The technical complexity of the futuristic raclette scraper was not without its challenges.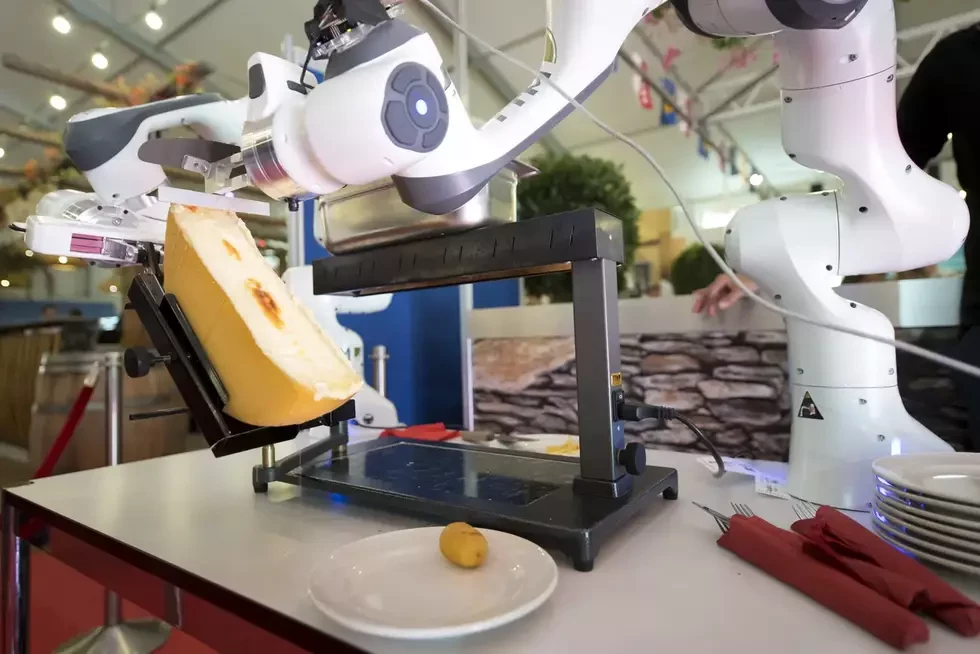 The movement is actually a simple one. However, applying exactly the right pressure to half of the cheese wheel and then sliding the portion of cheese onto a plate with a knife is not that easy. Precision, the perfect flow, and the appropriate know-how are indispensable.
Idiap, the research institute leading the project, confirmed in a press release that it is not easy to have this process technically reproduced by a robot. In order to achieve this, the responsible doctoral student at the development group used imitation.
The robot imitated the various movements of a human raclette specialist and the forces associated with these movements. With the aid of algorithms, the robot arm is able to reproduce movements by adapting them to the actual circumstances – in this case the position and size of the cheese.
A company in the town of Siders in the Swiss canton of Valais, which manufactures raclette forks, adapted the device used by the robot accordingly. In particular, it lengthened the rotating part of the cheese holder in order to simplify handling. The canton of Valais financially supported the scientific research of this robotics project.