The Digital Artisan
Esther Hunziker creates digital art. In doing so, she fabricates parallel universes. But this has nothing to do with the fantasy genre.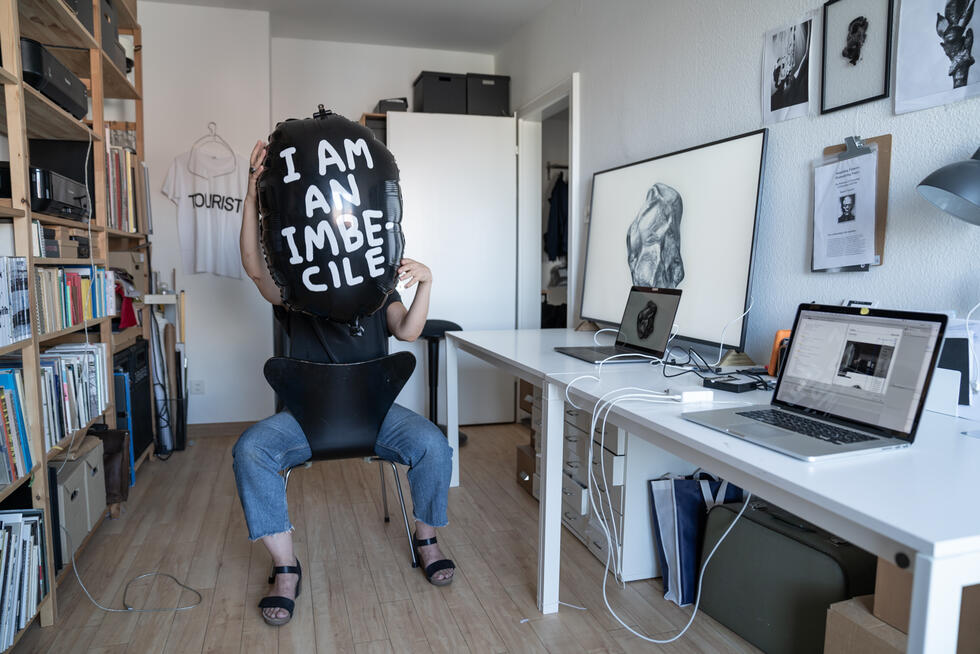 The creature on the screen talks with its whole body.
"I don't have anybody to tell my feelings to." Every word it speaks triggers movements suggestive of human facial expressions. "I've never done this before, I've never told anybody about my feelings." The creature's shell seems to be as elastic as skin. "I just thought I'd come on here and get this shit off my chest, dude." But the shape and texture of the creature looks anything but human – more like stone. Esther Hunziker calls her digital creations 'streamers'. For this project, she gave a new form to people who reveal their innermost being on YouTube every day – she has transformed them into talking stones. "Or meteorites, which crash into our world as foreign bodies," the artist explains.
During her research, Esther Hunziker spent months examining posts of YouTubers who present themselves to the Internet community. "I rummaged through the non-stop emotional flows of young 'streamers' who talk about nothing but 'themselves'," she explains. "It's a sea of virtual exhibitionists in search of self-expression and self-optimization." What interested her most about this project was the state of alienation and loneliness: "The point where the self becomes lost on the Net, and the real world appears increasingly alien."
Provoking mistakes
Esther Hunziker explores social phenomena such as YouTubers. Her tools to put them on the artistic scene: digital media. Consequently, she is almost inseparably connected to her computer: "I love my machine", explains the 51-year-old, "machines in general." It was only via these that Esther Hunziker found her access to art; she had never been interested in painting. However, when for once her art class covered photography, her interest was aroused. And the TV – or rather MTV – set her course for good: In the mid-90s, the Aargau-born artist studied video art in Basel. Initially, working in a highly analogue format; digitization only began to take hold towards the end of her studies. "The new aesthetics and working methods took some getting used to," Esther Hunziker recalls. Thus she initially focused on a new medium: the Internet. "I was fascinated by the idea of breaking up the temporal linearity imposed by video and experimenting with multi-medial, interactive possibilities."
The artist's love of experimentation is evident in her work: She constantly tries out new techniques and tools and often takes them to the limits of their possibilities. "To where mistakes happen and the unforeseen occurs." She happily hands over control to the machine, literally letting it create her art for her. For her 'Streamers' project, Esther Hunziker recreated stones in the 3D space of the After-Effects software and imbued them with the texture of real meteorites. Using a plug-in for the visualization of audio impulses, she was able to synchronize key data of the 3D objects with the audio track, so that the utterances of the YouTubers trigger the movements of the stone-like creatures.
Memorabilia from times past in Esther Hunziker's studio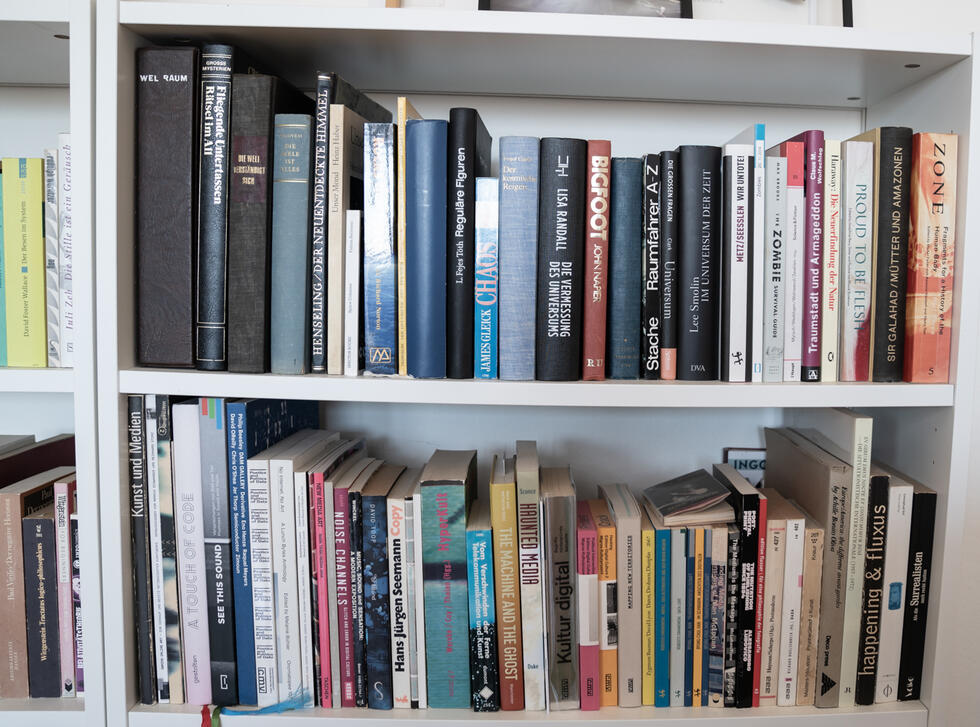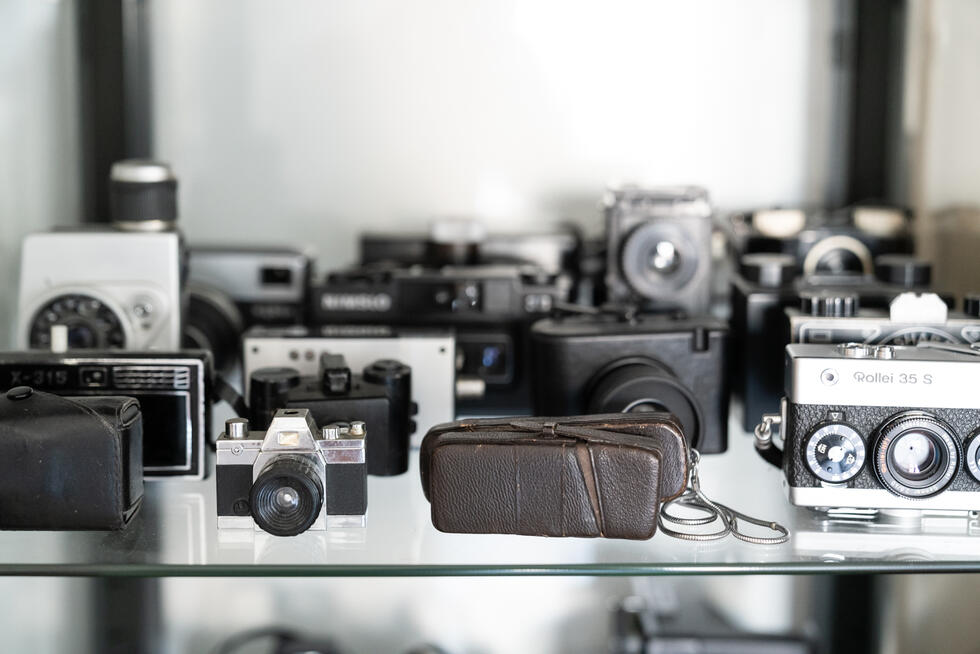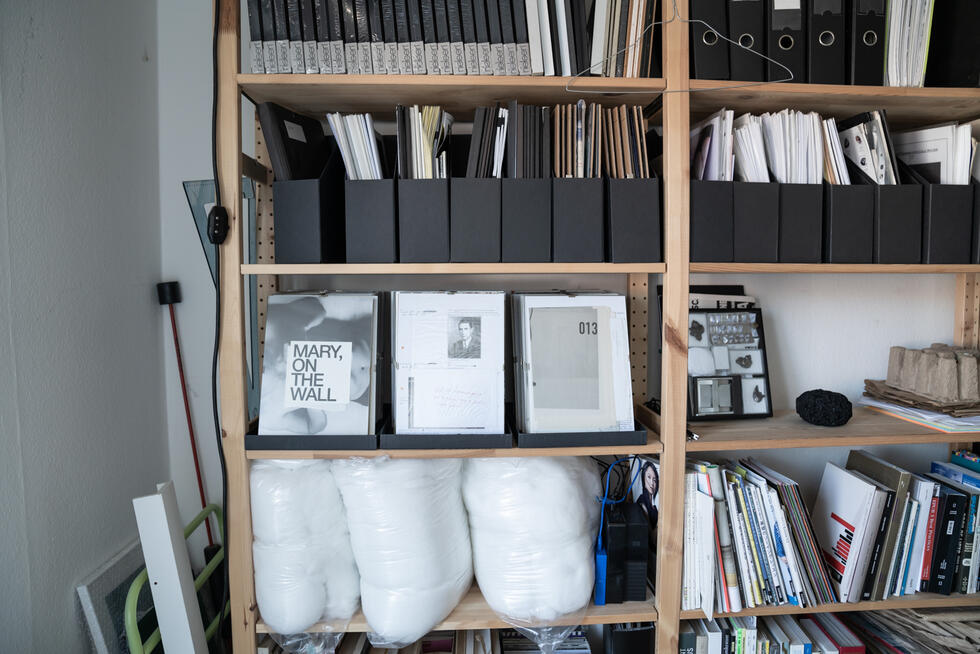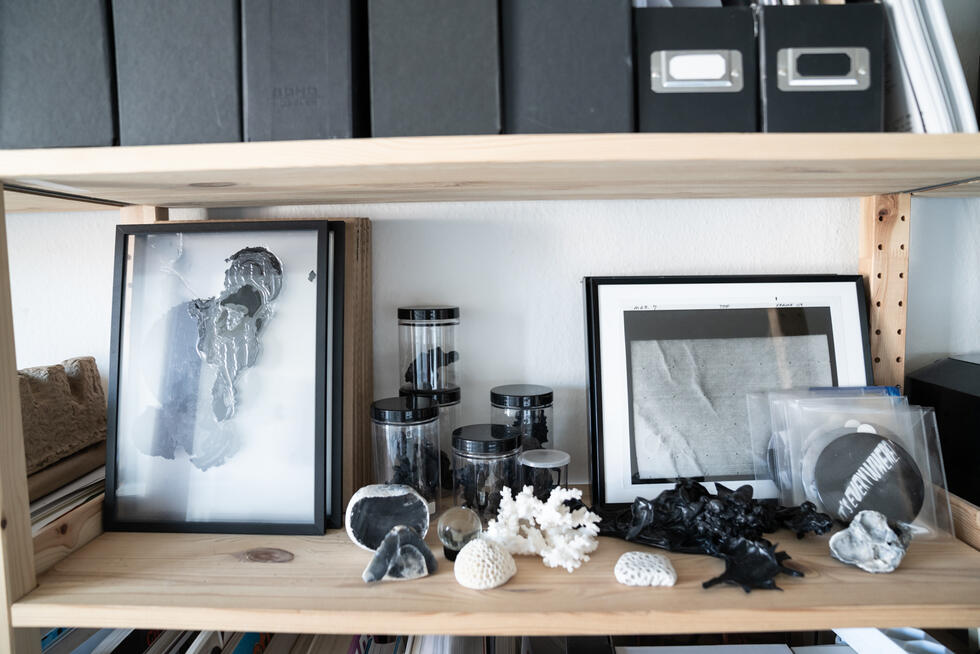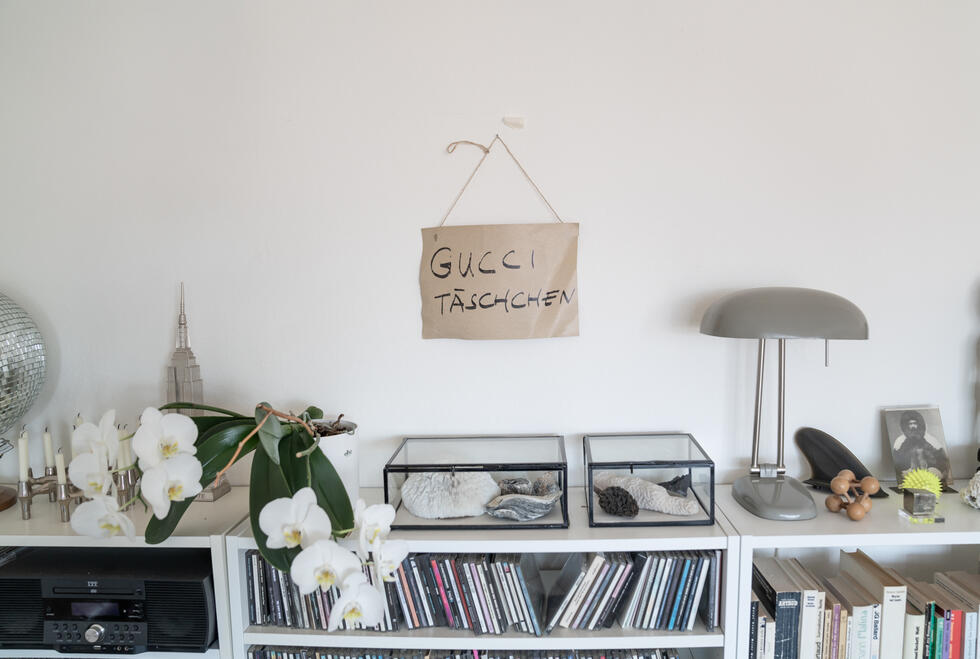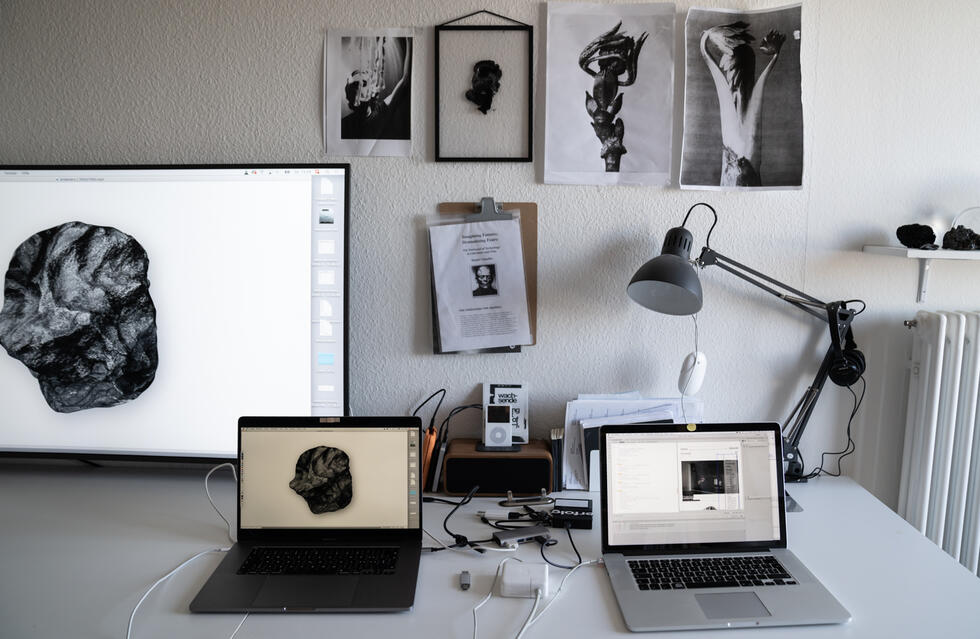 Turning away from the internet
Esther Hunziker does everything herself – a craftswoman as she says. Her roots actually lie in the crafts: Following her apprenticeship as a seamstress, she attended a fashion school. In 1993, she joined forces with a colleague to found the "Erfolg" ("Success") label, which still exists today. "We wrote a manifesto," she recalls. In it, the designers declared that they would not manufacture anything new and would instead print on tried and tested, existing garments. "This was certainly based on ethical considerations," says Esther Hunziker. But there was another reason as well: "We wanted our friends to be able to afford our fashion." Accessibility is a factor that Esther Hunziker considers important in her art as well. "For example, all my video projects can be viewed online at any time – 24/7. This is a huge advantage of non-material digital art." Esther Hunziker soon turned her back on the material fashion industry.
For example, all my video projects can be viewed online at any time – 24/7. This is a huge advantage of non-material digital art.
And she is currently also turning away from another field of specialization: "I'm sick of the Internet," the artist, who is generally quite reserved, does not mince her words. "It has transformed from an independent, creative space into a giant billboard and a data spider controlled by four tech giants." The fact that some browsers recently stopped playing audio automatically reinforced her decision. "Much of my Internet art no longer works." And so Esther Hunziker is once again turning to a new medium: She is founding a digital publishing house. "I want to publish multi-medial artist's editions as e-books," she says. "Here I can make as much 'noise' as I like, without first having to ask for the user's permission." However: "But I don't want to just come across as the grumpy old woman," she adds with a wink. "Of course the Internet has its good sides." She is still frequently online, for example on YouTube, looking for practical solutions to every conceivable problem.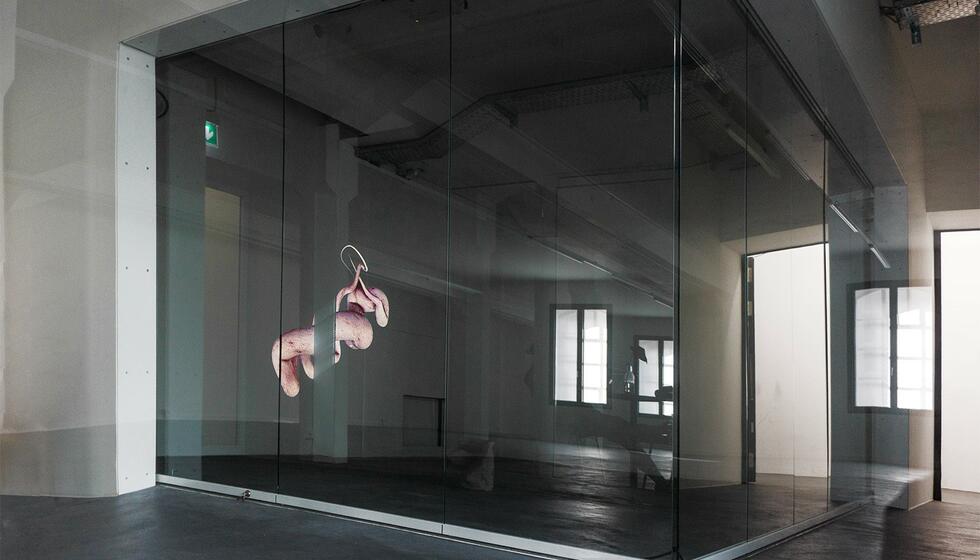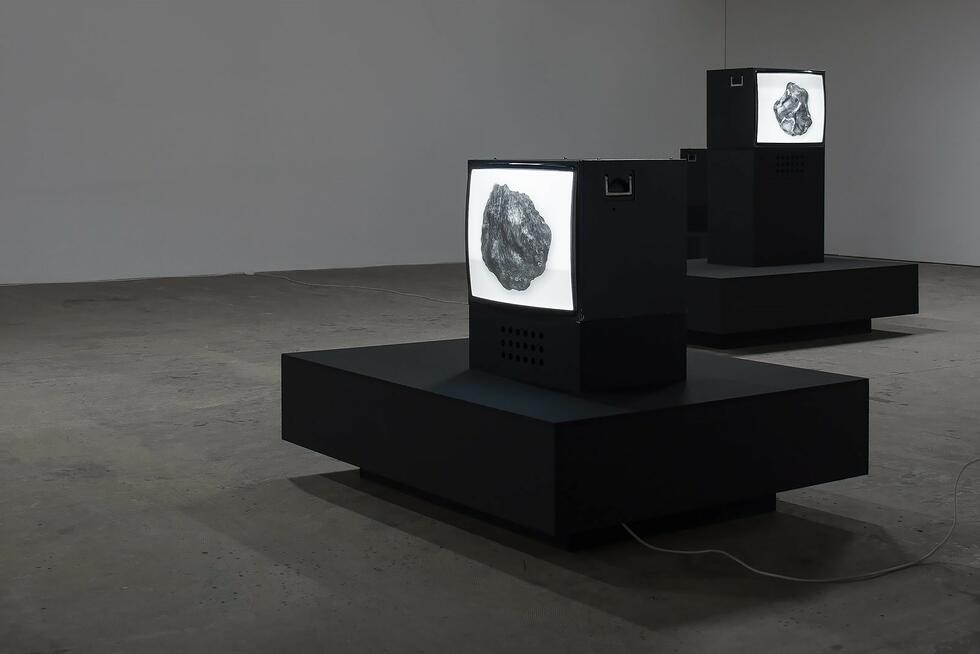 "I hate fantasy"
What connects Hunziker with the YouTubers: She too, often enters another world. With her art she creates entire parallel universes and causes them to collide with reality; "or at least with what we refer to as reality". She deals with processes of alienation, creates extraterrestrial beings like the 'streamers' or organic, tumorous creatures that move through space in her new video installation 'Projection'. But the artist is in no way interested in the fantasy genre: "I hate fantasy," she states emphatically and laughs. Rather, she is concerned with foreignness. A feeling she enjoys herself – "but only when I'm in foreign places". For instance, when she moved to Berlin or to the Chinese metropolis of Chongqing on an art studio scholarship and got lost in the city. "In foreign places, the feeling of being foreign cancels itself out and becomes normal."
Whenever Esther Hunziker stays in Basel too long, she grows nervous. "I could live anywhere for a while," she says – quite the digital nomad. Three years ago, however, she took a time-out from work. "I had worked two years straight in three jobs and had to pull the emergency cord." So she drove to Portugal – and did nothing at all for six months. After that she quit her third job as a screen designer. Today she is just an artist and a lecturer for digital media at the University of Applied Sciences and Arts Northwestern Switzerland.
Digital garden
As a balance, Esther Hunziker laid out a garden on her roof terrace during the corona lockdown. But even when she is tending her garden high above Basel's Gotthelf district, it is not accomplished in a completely analogue way: "I planted a variety of seeds, but then I got them all mixed up," the woman in her early fifties confesses. So she downloaded an app that identifies the seedlings for her. Beloved machines.